Visits, Walks and Talks
Spring is here!
As we say goodbye to an unusually cold spring, we look forward to visits to a series of amazingly beautiful gardens over the summer months in bright sunshine!
There are so many hidden gems in Cheshire that we thought we would recruit members' help this year. Instead of organising a garden visit in June, as we already have two events in May, we thought we would try something different. We are suggesting that you just take advantage of all the open gardens (in late May, June, July)
and even be a little bit more of a detective and complete a
Recce Form
(click on PDF link at the very bottom of this page)
for a potential visit in 2019. Further copies of the
recce
form are available from the Events Team. We have listed so many gardens across Cheshire that you will be spoilt for choice!
In July, however, we are planning to visit an amazingly spectacular garden at Mostyn Hall in Clywd, a bit further afield from our usual visits, but well worth the trip. The garden tour will be led by Phil Handley, the Kitchen Garden Manager. In 2015 Mostyn Kitchen Garden won the B2C (Business Supporting Communities) Business & Community Partnership Award, and in May 2016 the kitchen garden was shortlisted as a finalist in the Delicious Magazine Producer Awards - food for thought indeed! The numbers are limited for this visit,
so do book early
!
On Monday 6
th
August we have arranged to visit not one but two gardens, Hannah Bennett's Sculpture Garden, followed by Gill Bagshawe's Cutting Flower Garden,
Wild in the Country,
both located at Eyam, Derbyshire, and opening specially for CGT! The sculpture garden has recently been chosen to be in the BBC Countryfile list of Britain's Best Sculpture Gardens, while Gill Bagshawe featured on Gardeners' World last year. Both gardens have some stunning photos on their web sites with some excellent reviews. This will make a great day out worth the drive!
Book early as numbers limited!
Don't forget to take a look at the CGT website where you can review past events and look forward to future ones. And we look forward to receiving completed
recce
forms and photos! - on the gardens you have visited this summer.
From the Events Team
events@cheshire-gardens-trust.org.uk
www.cheshire-gardens-trust.org.uk/
Friday 1st June

Open gardens in Cheshire in May, June, July 2018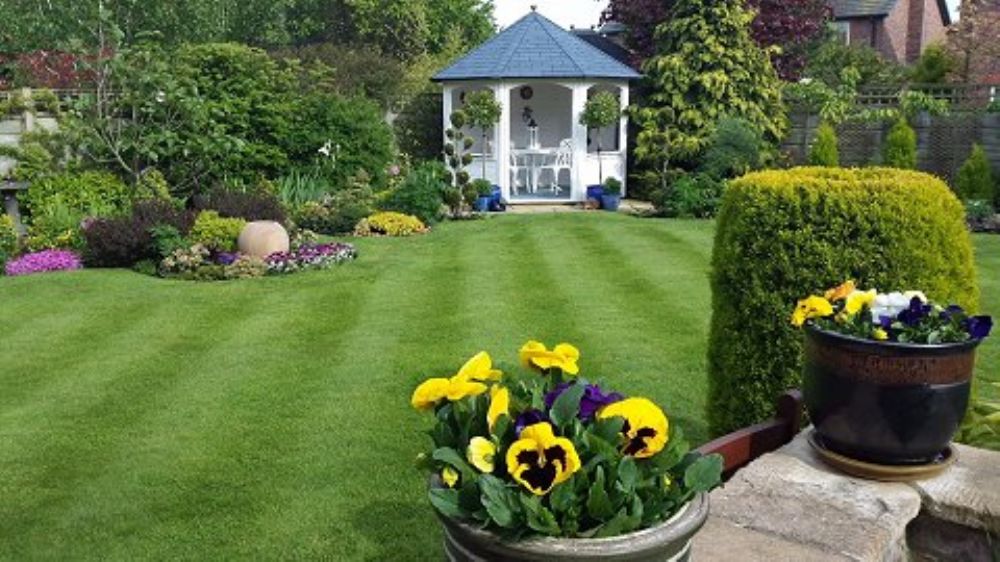 An amazing choice for visits!
Cheshire offers such a variety of Open Gardens to visit at this time of year. The following are suggestions, but you may have other ideas up your sleeve, especially if you know about gardens in an area of the county that we don't normally visit. So, here are our suggestions (most open in aid of charity):
Heaton Open Gardens, Heaton Moor, Stockport, SK4 4JR
Sunday 20thMay 2018 12noon to 5.00pm, tickets, £5.00 for two adults with accompanied children free, available from gardens on the day
Caldy Village Open Gardens Wirral, CH48 2HZ
Sunday 27
th
May 2018 1.00pm to 6.00pm
£7.50 on the day or £6.00 in advance (online
caldyopengardens@gmail.com
), accompanied under 16s free. Signs in village to show where to park and buy tickets
Gatley Open Gardens near Cheadle, SK8 4PG
Sunday 24
th
June 2018 11.00am to 5.00pm
£5 per adult, children free, tickets available from one of the gardens on the day, 4 Alcester Road, Gatley
Wilmslow Open Gardens, SK9 6EL
Saturday 30thJune 2018 10.30-4.30pm
£12.00 ticket (available from gardens on the day) with map gives admission to all the gardens, accompanied children free.
Marple Open Gardens. SK6 6AY
Saturday 7
th
and Sunday 8
th
July 2018 11.00am to 5.00pm
£6.00 per day, or both days £10.00, accompanied under 16s free (tickets available from Cancer Research Shop, Market Street).
For further information see the Open Gardens website
www.opengardens.co.uk

Gardens open under the National Gardens Scheme. We've listed those new this year but there are plenty more:
Stretton Old Hall, Tilston, Malpas SY14 7JA
May 20th& July 15th11am- 5pm Adults £6
5 acre Cheshire countryside garden
Cheriton, 34 Congleton Road, Alderley Edge SK9 7AB
Sat 26th& Sun 27th May 11am-5pm Adults £5, children £3
1 acre garden with fine views
Mayfield, Bunbury Heath Tarporley, CW6 9SY
June 2/3, July 7/8 10am-4.30pm Adults £5
Mature garden with wealth of colour
Mill House, Threapwood, Malpas, SY14 7PD
June 3 11am to 4pm Adult £4
A large garden set in the midst of a smallholding
For further information visit the NGS
at
www.ngs.org.uk

Cheshire Wildlife Trust - Open Gardens for Wildlife Rowley House, Forty Acre Lane, Kermincham, Holmes Chapel, CW4 8DX
May 28th1.30-4.30
Clemley House, Well Lane, Duddon Common, Tarporley, CW6 0HG
June 24
th
1-5pm
And, last by no means least, so pleased that
CGT member, Gordon Cooke,
is opening his popular garden this year after a break. As well as the unusual urban garden to view, beautiful pottery and other art for sale!
Saturday 21
st
, Sunday 22
nd
July 2-5pm £3.50 teas
17 Poplar Grove, Sale M33 3AX Hope you have some amazing visits and do complete a Recce Form if the garden appears to be one CGT might visit in 2019.
And whether you complete a recce form or not please send photos of your visit to our newsletter editor
sue_eldridge@hotmail.com
so that a selection can be included in the next newsletter
Monday 6th August

Visit to two contrasting gardens in Eyam, Derbyshire: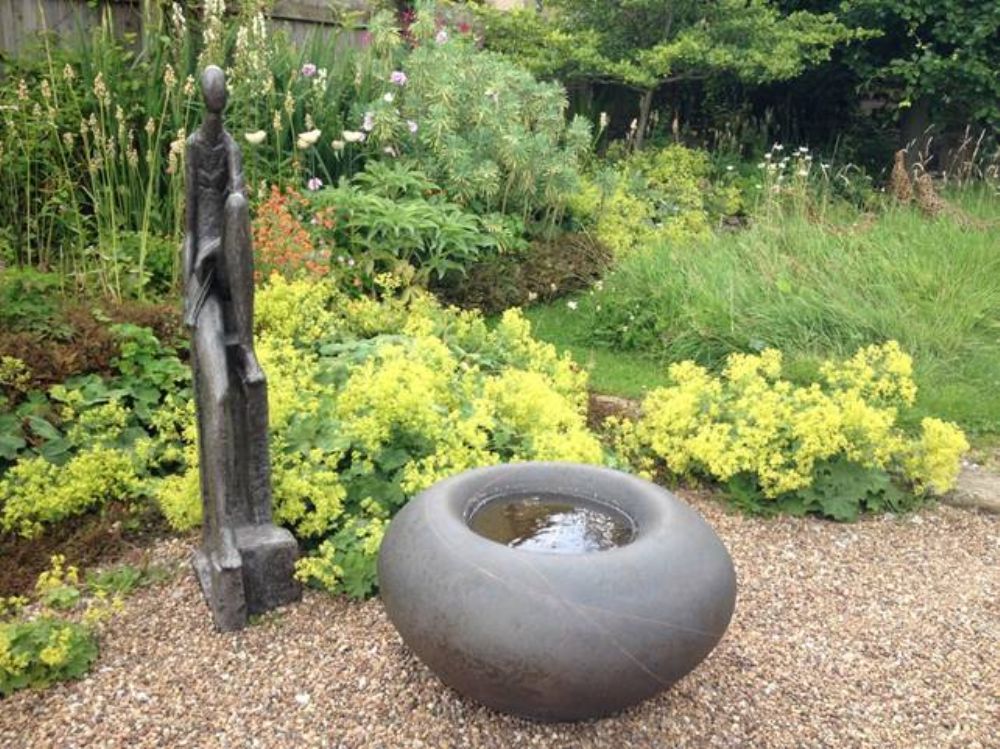 Hannah Bennett's Sculpture Garden and Gill Bagshawe's Cutting Flower Garden 'Wild in the Country'
Garden One :
Hannah Bennett Sculpture Garden, The Barn, off Church St, Eyam S32 5RH
Hannah Bennett has worked as a sculptor for nearly 20 years. Her work is inspired by the landscape and natural forms and she makes pieces for outside spaces. She displays her own work in her garden as well as that of other artists. Hers isn't a formal sculpture garden - rather it's a 'real garden, with a vegetable patch and the odd child's toy. It's a space that's lived in and sculpture should be part of that'
Hannah is opening specially for us and many of the works are for sale. A small, well-designed space structured round a barn conversion. There is a delightful vintage caravan ticket office, a small vegetable garden, espaliered apple trees and good views of the surrounding countryside. The lovely sculptures vary from year to year.
Hannah will be there to talk to visitors - about the garden, her ceramics and the techniques she uses. You can look through the door of her studio, but she cannot allow people inside.
http://www.hannahbennett.co.uk/sculpture-garden/
Garden Two :
'Wild in the Country' Gill Bagshawe's Cutting Garden, Hawkhill Rd, Eyam S32 5QQ
Gill grows flowers for cutting which she sells to florists, floral designers, cafes, restaurants, shops, DIY wedding parties and members of the public. She is happy to welcome us to her plot to enjoy 'flowers that have been grown not flown, flowers of charm and character that surpass anything that you will find in the supermarket, flowers that grow in the open where they provide a feast for the eyes and nectar for bees and butterflies'
Gill's plot is set out with maximum flower production and ease of harvesting in mind. Raised beds are oriented north to south to allow the sun to reach both sides and encourage straight stems. Three-foot-wide paths between the beds allow you to get up close to the plants, and everything is labelled with information about vase life, period of harvesting etc. Being surrounded by flowers on all sides is a delight and not something that you tend to experience very often!
Gill will talk about growing flowers for cutting and take us on a tour.
https://www.wildinthecountryflowers.co.uk/
Arrangements:
We will visit the gardens before and after lunch. As both gardens are small we may decide to split the group - we will let you know when we send out confirmation of booking. You will make your own arrangements for lunch (see next paragraph). There is a large public car park in the village and everywhere is within walking distance.
Refreshments
: There are two or three cafes close to both gardens. Each provides a full menu, toilet facilities and wonderful cakes. Ideal for coffee beforehand and/or lunch between visits. There are also pubs in the village or you may wish to bring a picnic.
Access:
Hannah's garden is step-free but the surfaces are all grass or gravel and can be uneven in places. Gill's plot has flat paths but is a working garden.
Hannah's entrance fee will go towards the Neonatal Unit at Chesterfield Hospital
Numbers limited, so please book early to ensure a place
Download PDF booking form
Download PDF