Caldwell Nurseries, Knutsford - Research Project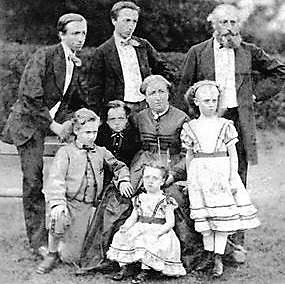 W, G. Caldwell (1824-1873) with his sons Alfred (1853-1934), William (1855-1918) and Arthur (1866-1939) who all followed their father into the business, together with the rest of the family
If you have you ever wondered how people gardened in the past, why not visit our
Caldwell Project website.
This tells the story of the Knutsford nurseries and the six generations of the Caldwell family who ran them for two centuries.
The first William Caldwell went to the Knutsford nursery of John Nickson in 1780 as an apprentice when he was just 14 years old. Seventeen years later he returned to become a part owner. From 1797 to 1992 there were six William Caldwells, plus other members of the family.
The website includes photos of the surviving 14 ledgers from the business and the first William Caldwell's Knowsley nursery. These ledgers (they date back to 1789) are being transcribed into a database, so that you can discover who bought what plants.
And that's not all. There are also recordings of the memories of Caldwell family, staff and customers from the latter half of the twentieth century.
And you can find information about Caldwell customers and their gardens; learn about the plants they grew; discover more about the nursery trade in the north-west over more than two centuries.
We are adding to the website all the time and we have also produced an exhibition and a book. To order a copy of the book, click below for PDF.
Download PDF